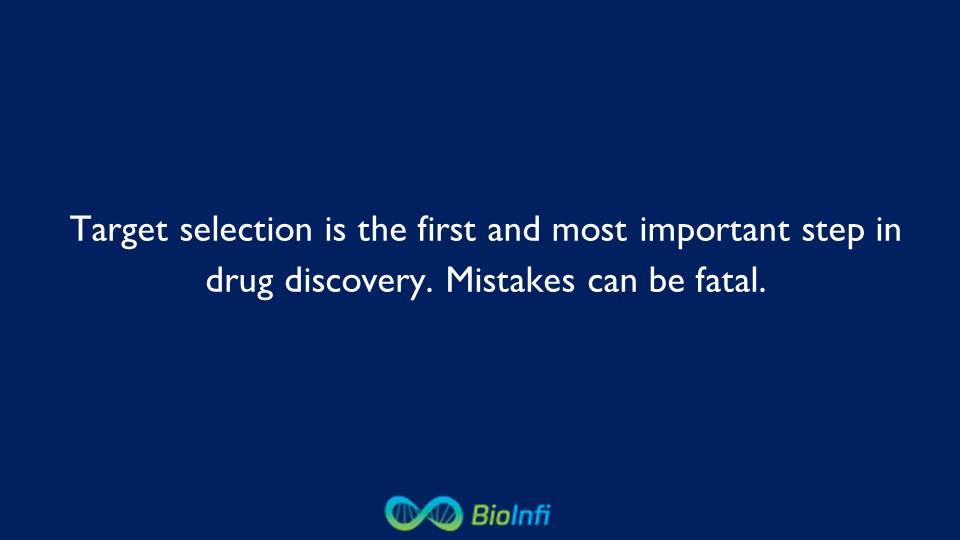 BioInfi believes that every biotech company should have access to expert target selection and repurposing guidance. We are here to help your succeed. Successful target selection decisions require:
leveraging the biotech's competitive edge and strategy
an in-depth understanding of the platform and therapeutic area
interpretation of the relevant genetics and literature data
experience making target prioritization decisions that foreshadow future challenges
These early decisions are crucial to your success.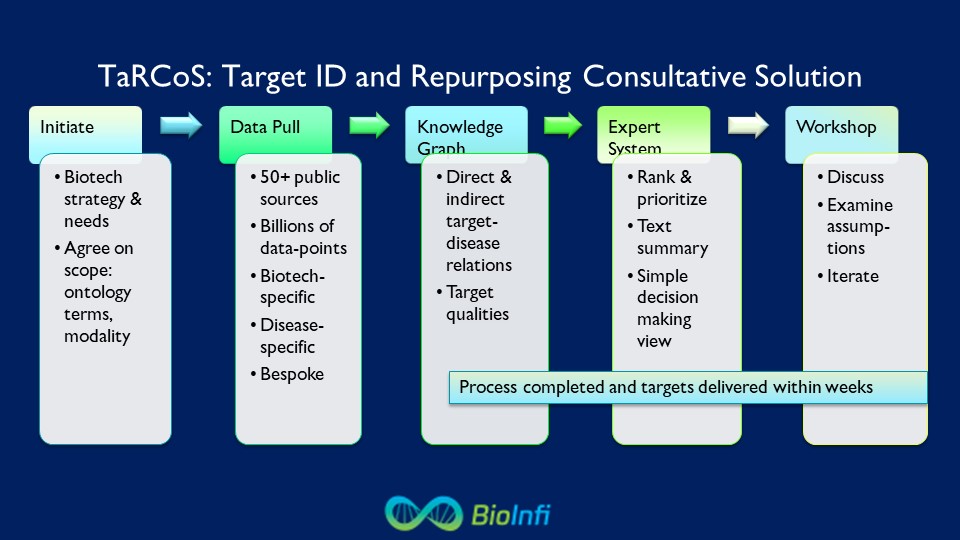 Salient features:
Our proprietary analytical platform helps you rapidly prioritize across targets using our data integration, analytics, and expert consultation.

Our comprehensive approach improves your probability of success.

We also help you exercise the necessary due diligence to consider broader types and sources of information before committing millions of dollars on a project and target.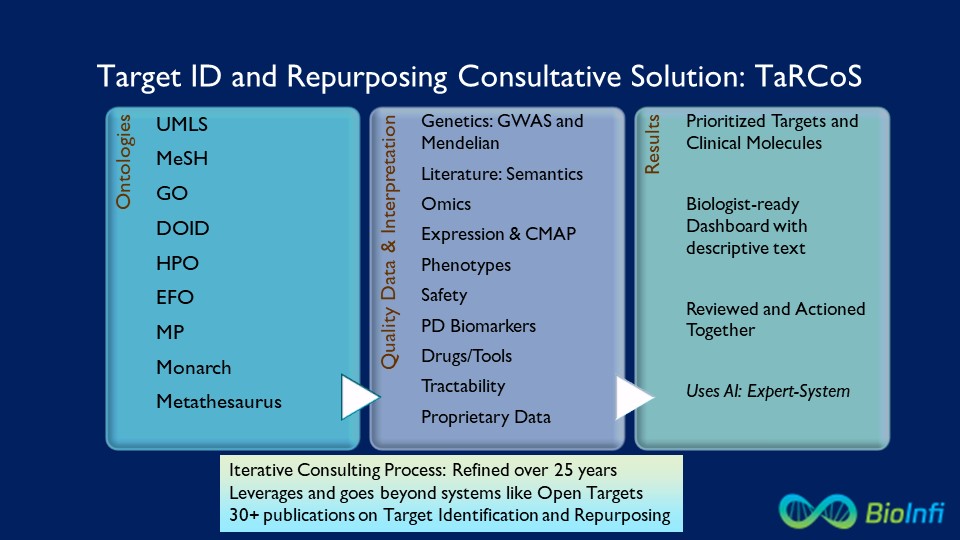 Please
email us
to initiate a discussion. We are available to present a seminar on our approach.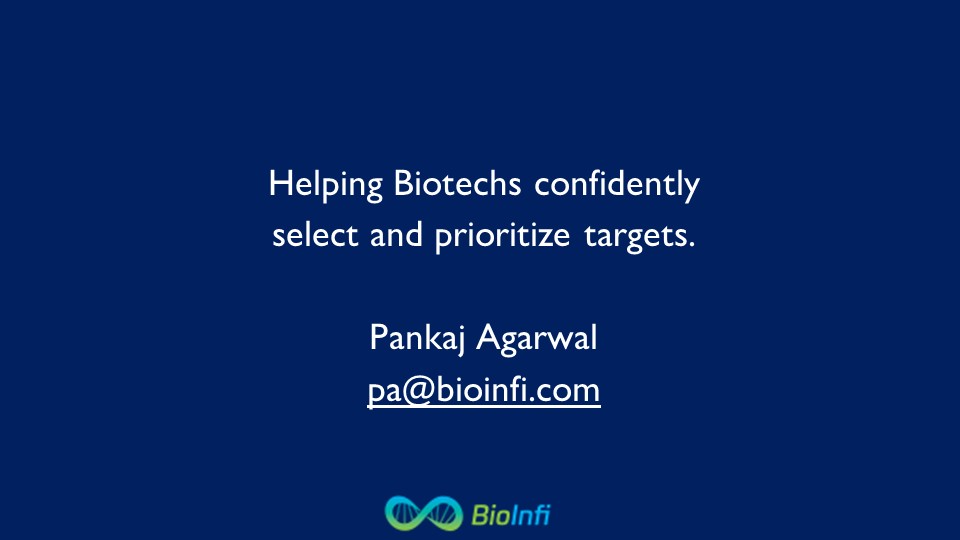 The TaRCoS approach is backed by our numerous
publications
in high-impact journals. We have extensive experience with a variety of techniques and data types. We carefully select the most effective methods and data sources to use in each project. Our published work demonstrates the success of our approach. We are committed to staying current with the latest state-of-the-art methods in order to provide the best possible service to our clients. Key publications spanning multiple techniques and data types used in TaRCoS:
...
Connectivity Map, Indication Expansion, Validation: Reisdorf W., , Agarwal P. Preclinical evaluation of EPHX2 inhibition as a novel treatment for inflammatory bowel disease. PLoS One. 2019 Apr 19;14(4):e0215033.
AI, Strategy, OpinionVijayan V, Rouillard A, Rajpal D, Agarwal P. Could Artificial Intelligence provide the new paradigm for data integration in drug discovery? Expert Opin Drug Discov. 2019.
Machine Learning, Expression: Rouillard A, Hurle MR, Agarwal P. Systematic interrogation of diverse Omic data reveals interpretable, robust, and generalizable transcriptomic features of clinically successful therapeutic targets. PLoS Computational Biology 2018: 14 (5), e1006142.
Networks, Pitfalls: Ji X, Freudenberg J, Agarwal P. Integrating biological networks for drug target prediction and prioritization. Methods Mol Biol. 2019; 1903:203-218.
AI, Pitfalls: Yao J, Hurle MR, Nelson MR, Agarwal P. Predicting clinically promising therapeutic hypotheses using tensor factorization. BMC Bioinformatics. 2019: 20:69.
Genetics, Pathways: Jhamb D, Magid-Slav M, Hurle M, Agarwal P. Pathway analysis of GWAS loci identifies novel drug targets and repurposing opportunities. Drug Discovery Today 24 (6), 1232-1236.
Indication Expansion, Validation: Middleton SA, …, Agarwal P, Kumar V. BET Inhibition Improves NASH and Liver Fibrosis. Sci Rep. 201; 8: 17257.
Open Targets: Khaladkar M, Koscielny G, Hasan S, Agarwal P, Dunham I, Rajpal D, Sanseau P. Uncovering novel repositioning opportunities using the Open Targets platform. Drug Discov Today. 2017 Dec;22(12):1800-1807.
Public data, Strategy, Opinion: Reisdorf WC, Chhugani N, Sanseau P, Agarwal P. Harnessing public domain data to discover and validate therapeutic targets. Expert Opin Drug Discov. 2017 Jul;12(7):687-693.
Genetics, Strategy: Hurle MR, Nelson MR, Agarwal P, Cardon LR. Trial watch: Impact of genetically supported target selection on R&D productivity. Nat Rev Drug Discov. 2016: 15 (9), 596-7.
Strategy, Novelty: P. Agarwal, P. Sanseau, L.R. Cardon. Novelty in the target landscape of the pharmaceutical industry. Nat Rev Drug Discov. 2013 Aug;12(8):575-6. doi: 10.1038/nrd4089.
Review, Methodology: M.R. Hurle, L. Yang, D.K. Rajpal, P. Sanseau, P. Agarwal. Computational drug repositioning: from data to therapeutics. Clin Pharmacol Ther. 2013 Apr;93(4):335-41.
Genetics, Indication Expansion: P. Sanseau, P. Agarwal, M.R. Barnes, T. Pastinen, J.B. Richards, L.R. Cardon, V. Mooser. Use of Genome-Wide Association Studies for Drug Repositioning. Nat. Biotech. 2012 Apr 10;30(4):317-20.
Clinical, Indication Expansion: L. Yang, P. Agarwal. Systematic Drug Repositioning based on Clinical Side-Effects. PLoS One. 2011;6(12):e28025.
EHRs, Indication Expansion: L.Yao, Y. Zhang, Y. Li, P. Sanseau, P. Agarwal. Electronic health records: Implications for drug discovery. Drug Discov Today. 2011 Jul;16(13-14):594-9.
Complete publication list:
PubMed
,
Google Scholar
Other services offered include:
Indication evaluation and expansion for your (pre)clinical asset.
Evaluation of molecular biomarkers for an indication.
Pharmacodynamic biomarkers for your drug.
Recruiting the impossible to find scientist or physician based on their science.
Each of these is supported by proprietary data builds, analytics, and consulting to provide clean solutions to biotech challenges. We specialize in non-oncology indications and rare diseases.
Business Model
Our business model offers flexible, flat-fee pricing based on your specific objectives. With decades of industry experience across a wide range of diseases, platforms, and therapeutic modalities, we are well-equipped to provide actionable guidance for your project. Our comprehensive service includes:
a custom data build
inclusion of your target-related, disease-specific, and bespoke requests
prioritization of targets and repurposing opportunities
joint assessment of results with workshopped consulting support
customer owns all target rights
BioInfi retains rights to our data and analytics IP
risk-sharing options with milestone-based payments available